3 NIGHTS, 6 BREWS, 8 MASTER BREWERS
Brew with world-class master brewers over three days at one of the best hotels in the West, Cannery Pier Hotel & Spa, located on the scenic Oregon coast at the infamous mouth of the Columbia River. At this exclusive retreat, you'll enjoy pairing dinners with limited-release beers, brew with pro brewers from the finest breweries, connect with brewery owners from around the country, and relax at an upscale resort in beautiful Astoria, Oregon. All meals and select beers are included, but space is limited to the first 46 attendees.
We'll ferment and bottle these beers and send you a handful of beers to enjoy. You'll have the ultimate collaboration beers to share with your friends. This experience will be just as amazing whether you are a pro brewer, a homebrewer, or not a brewer at all. It might help if you love craft beer, though.
The ticket price includes three nights of luxury lodging at the Cannery Pier Hotel & Spa, 2 delicious lunches and 3 great dinners at various locations in Astoria, round-trip transportation from downtown Portland and Portland International Airport (at specific times only), craft beer at happy hour and evening events, all the brewing supplies you'll need, and all taxes and gratuities. Each of the attendees will also get an awesome goodie bag with a retail value of more than $200.
BREWERS
Eight of the master brewers are confirmed.
JEREMY TOFTE, OWNER, MELVIN BREWING
World Beer Cup gold. Multiple GABF golds. Back-to-back wins in the Alpha King Challenge. Small brewpub of the Year. Up until a few months ago, Melvin Brewing might have been the most decorated 3 BBL brew- house in the country. And the only reason they're not now is the addition of a gleaming new 30 BBL brewhouse, production facility, and canning line in Alpine, Wyoming. These self-professed Kung Fu and hip hop fanatics, with beers named in honor of the Wu-Tang Clan, are on the march to take their brand of unrepentant hops-forward beers to beer fans throughout the Rockies and PNW.
JOHN MAIER, BREWMASTER, ROGUE ALES
Since graduating the Siebel Institute in 1986, John has become one of the most award-winning craft brewers in the world as Rogue's Brewmaster, where he has been since 1989. He describes Rogue Ales' practice of crafting a wide range of ales (regular, seasonal, and specialty) as being due to Rogue's philosophy "that variety is the spice of life." Rogue to date has produced more than 60 different ales using a non-pasteurized process with no preservatives, all-natural ingredients (many from the Pacific Northwest, including all of their malts and hops), and a special proprietary yeast known as "Pacman."
Maier says that all of their beers are meant to go with food. To that end, the company has worked closely with celebrated chefs such as Iron Chef's Masaharu Morimoto, brewing industry experts such as Fred Eckhardt and restaurateurs in crafting signature beers produced in small scale for restaurants.
JACK HARRIS, BREWMASTER, FORT GEORGE BREWERY
Jack began brewing for the McMenamins in 1990 at the Cornelius Pass Roadhouse, back when the brewery and pub were still in the old Imbrie House. He migrated to the McForeign Legion outpost of Lincoln City and brewed there until 1993 when he accepted a job to open Mountain Sun in Boulder, Colorado. After making the move back to Oregon, Jack brewed in Cannon Beach for 9 years before opening Fort George in 2007. Fort George has gained a reputation nationally for creating some of the best stouts, barrel-aged beers, and IPAs in the country.
KEVIN SHAW, HEAD BREWER, BUOY BEER COMPANY
Kevin attended Seibel Institute of Brewing Technology in Chicago before landing a job in Yakima, Washington, working for the micro brewing pioneer Bert Grant at Yakima Brewing and Malting.
He spent three years in Yakima but wanted to get back to Portland and made the move when he found a position at BridgePort Brewing. Kevin started as a shift brewer, eventually working his way up to Lead Brewer and finally Head Brewer. After a great run of 14 years at BridgePort, he decided it was time to mix things up and headed northwest to Buoy Beer Company to run the Brewing Operations. Less than a year into operation, Buoy picked up a silver medal at GABF.
ANDY MILLER, COFOUNDER/BREWMASTER, GREAT NOTION
Great Notion Brewing is a 7 BBL brewery and tap room in Portland, Oregon, focused primarily on juicy New England-style IPA's and creative sour ales. Andy was a homebrewer before launching Great Notion just over a year ago.
Great Notion is already in the top 30 breweries in the world on Untappd.
TREVOR ROGERS, COFOUNDER/BREWMASTER, DE GARDE BREWING
Rogers and his wife Linsey moved to Tillamook from Pacific City, Oregon, where Rogers had been brewing at Pelican Brewery. They opened de Garde in 2013 with a ten-barrel brewery and coolship located on the Oregon Coast. Their craft draws on historic traditions, local experimentation, and wild yeast.
de Garde does not add laboratory cultured yeast to ferment their beer. They simply cool the wort naturally in a coolship and let amazing yeast & microflora all around them ferment! After the wort cools, they transfer everything to oak barrels (some big, some small, some medium). Each beer takes it's own time in barrels to finish fermenting. The brewery is named after the traditional French pale ale bière de garde, or "beer for keeping."
JACOB LEONARD, DIRECTOR OF BREWERY OPERATIONS, BREAKSIDE BREWERY
In 2002, Jacob started home brewing after asking his microbiology professor, "How do I work more with yeast?" He quickly fell in love with making beer, enrolled in the American Brewer's Guild and began brewing with Laurelwood Brewing Company in Portland, OR. After several years, he took over the Head Brewer position at Walking Man Brewing in Stevenson, WA where he explored and grew his knowledge of beer, brewing and the industry for six years. During this time, he was awarded the Glen Hay Falconer Scholarship and attended the Seibel Institute in Chicago. He was also awarded medals at the Great American Beer Festival, World Beer Cup and North American Beer Awards.
With a desire to return to Portland, along with an opportunity to expand his education by learning large scale production, Jacob took the opportunity to work with Widmer Brothers Brewing. During this time, he was also able to utilize a state of the art laboratory and develop a skill set that he now uses for his current position, Director of Brewing Operations, at Breakside Brewing. He was approached to join the Breakside team in 2012 to help start their 30 barrel production brewery and is now overseeing the production of all three of their breweries.
ELI DICKISON, BREWMASTER, BARLEY BROWNS
After graduating from Oregon State University with a Fermentation Science degree in 2012, Eli moved back to his hometown of Baker City where he took a job at Barley Brown's Brewpub. That year they took home 4 medals from GABF including one for the first batch of Eli's first original beer there.
Less than a year later, the new 20 bbl system was running across the street from the original location and they began operating as "Barley Brown's Beer". That year saw them win GABF Very Small Brewery of the Year. The ensuing years have seen many more national and international awards and collaborations around the globe. Barley Brown's brews a diverse array of styles but they are known most for hoppy beers including the 2013 National IPA Championship winner, Pallet Jack.
Location
Enjoy one of the best hotels in the West, Cannery Pier Hotel & Spa, located on the scenic Oregon coast at the infamous mouth of the Columbia River. We will also be spending time at Fort George, Buoy Beer, Rogue, and other Astoria beer meccas.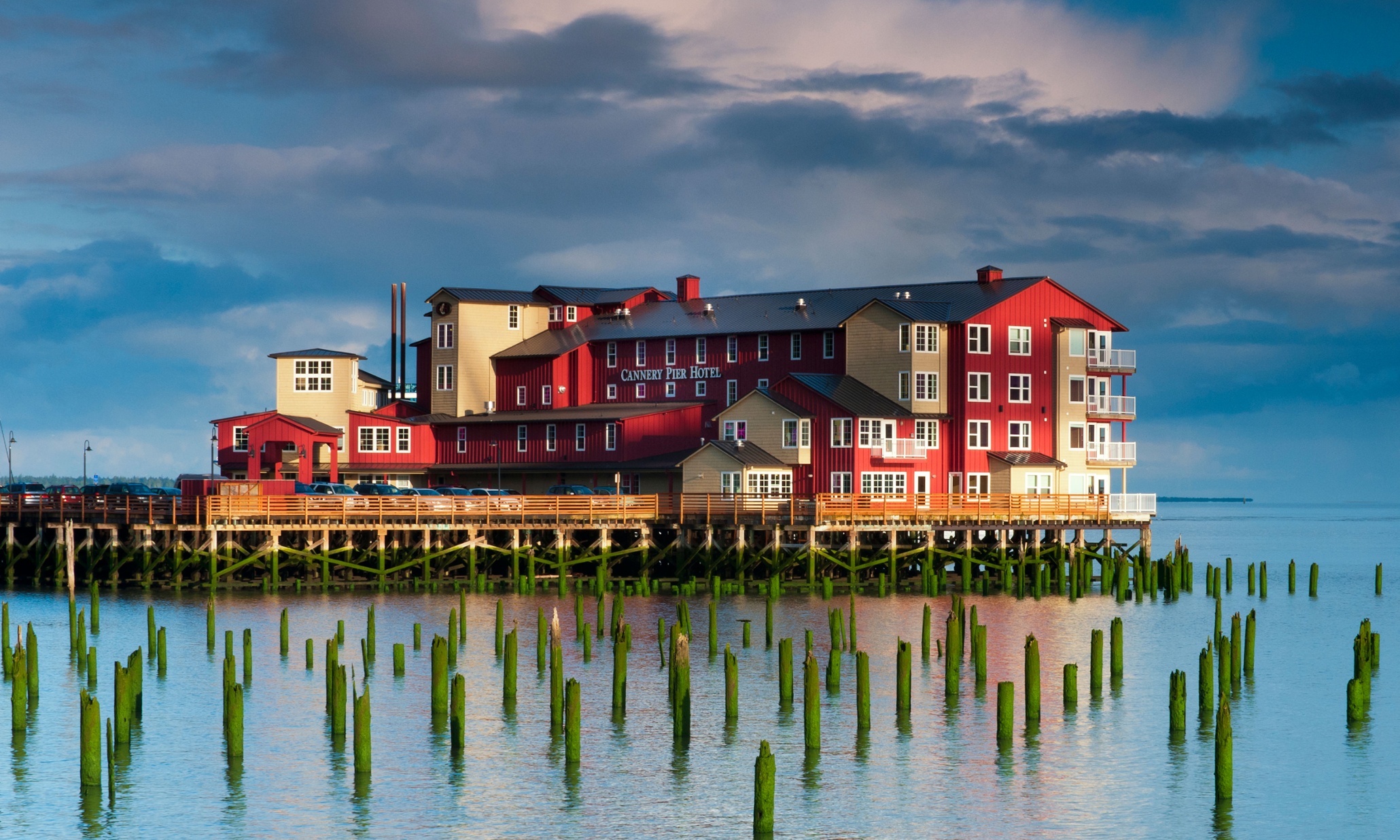 ITINERARY
We are still confirming some additional activities/classes. Stay tuned.
DAY 1 (MAY 14, 2017)
2:00PM: Pick-up at Portland International Airport via luxury coach bus (charter bus pickup location - island 3, right side)
2:30PM: Pick-up at Oregon Convention Center (main entrance on MLK)
4:30PM-5:00PM: Arrive in Astoria, check-in, and get settled at the Cannery Pier Hotel & Spa
5:00PM-6:00PM: Welcome Happy Hour at the Cannery Pier Hotel & Spa
6:30PM-8:30PM: Dinner & Reception at Buoy Beer. We will be taking the Astoria Trolley to Buoy at 6:15PM and return at 8:45PM.
DAY 2 (MAY 15, 2017)
6:00AM-10:00AM: Continental Breakfast at the Cannery Pier Hotel & Spa
9:00AM-11:00AM: Launching and Growing a Brewery seminar with Jeremy Tofte (Owner, Melvin) in Fort George Barrel Room. Transportation will begin at 8:30AM and loop until 11:15AM
12:00PM-5:00PM: Brewing Session with John Maier (Brewmaster, Rogue), Andy Miller (Cofounder/Brewmaster, Great Notion), and collab between Jack Harris (Brewmaster/Co-owner, Fort George Brewing) and Kevin Shaw (Brewmaster, Buoy Beer)
12:00PM-1:00PM: Lunch at Cannery Pier Hotel & Spa
4:00PM-6:00PM: Happy Hour at the Cannery Pier Hotel & Spa
6:30PM-9:00PM: Pairing Dinner at Bridgewater Bistro. About 100 yards from the hotel.
DAY 3 (MAY 16, 2017)
6:00AM-10:00AM: Continental Breakfast at the Cannery Pier Hotel & Spa
9:00AM-10:00AM: Sensory Seminar with Luke Barrett (Brewer, Fort George Brewing)
10:00AM-11:00AM: Brewing Seminar with Trevor Rogers (Cofounder/Brewmaster, de Garde Brewing)
12:00PM-5:00PM: Brewing Session with Jeremy (Owner, Melvin Brewing), Jacob Leonard (Director of Brewery Operations, Breakside Brewery), Eli Dickison (Brewmaster, Barley Browns)
12:00PM-1:00PM: Lunch at Cannery Pier Hotel & Spa
4:00PM-6:00PM: Happy Hour at the Cannery Pier Hotel & Spa
6:30PM-8:30PM: Pairing Dinner at Rogue Ales. We will be taking the Astoria Trolley to Buoy at 6:15PM and return at 8:45PM.
DAY 4 (MAY 17, 2017)
6:00AM-9:30AM: Continental Breakfast at the Cannery Pier Hotel & Spa
9:30AM: Bus leaves to return to Portland
11:45AM: Drop off at Portland Airport
12:15PM: Drop off at Oregon Convention Center
At Ss Brewtech, we are all about innovation, usable features, quality, affordable prices, and top-notch customer service. We have only just begun to fundamentally change the landscape of brewing equipment for the better. We launched our business in 2013 with the Brew Bucket-—the world's first conical-bottomed stackable stainless steel fermenting bucket. We followed this up with a solid line-up of conical fermentors ranging from 7 gallons to the ever-popular half barrel. Then came the world's first homebrewing kettles with a built-in trub dam. And then the world's first fully integrated homebrewing temperature control add-on system with immersion chiller coils, digital controller, and custom-tailored neoprene insulating jackets. Then we launched the world's first all stainless infusion mash tun with a pro-style 5° sloped floor, center drain, silicone gasket seal for the false bottom, and digital thermometer. As we look toward 2016 and beyond, we plan take our business beyond home-scale gear to nano and commercial-size systems.
BREWING SCIENCE INSTITUTE (BSI)
Established in 1996, and located at 8500 feet in the Pikes Peak region of the Colorado Rockies, The Brewing Science Institute provides the highest quality yeast cultures, laboratory services, and products for the professional brewer.
Business partners David Bryant and Bryan Pearson share over 30 years of combined experience in microbiology and brewing technology. We have been brewers and understand the daily challenges that arise in a brewery. Our goal is to provide knowledge on the fundamentals of fermentation, microbiology and brewing technology.
Craft Beer & Brewing is committed to providing exceptional content to the craft-beer community. From cooking with beer recipes, beer reviews, brewery features, and brewing how-to, we are the quality resource for the craft-beer community.
Ruby Street Brewing, LLC specializes in building top quality all grain beer brewing systems and equipment. Ultimate home brewery, pilot brewery, or nano brewery, we have brewing equipment to meet your needs. Short lead times, innovative products, and outstanding customer service make Ruby Street Brewing your best option for professional grade equipment.
In 2004, BSG recognized that the craft brewing and homebrewing community needed a dependable source for diverse ingredients from around the world. Since then, we have earned the trust of our customers by delivering the finest brewing ingredients at competitive values, all backed by outstanding customer service and depth of industry experience.
We continue to search the globe for new and interesting brewing ingredients that we can bring to our customers. Consequently, our product list continues to grow as we strive to better meet the needs of both professional brewers and homebrewers. Additionally, our knowledgeable and friendly sales and management staff comes from the professional brewing & homebrewing communities, so we can assist you in everything from recipe formulation to troubleshooting.
Whether it's exclusive specialty malts, in-demand hop varieties, or premium brewing aids we have you covered; great beers are made from select ingredients. BSG is committed to being your partner, and shares your passion for creating outstanding beers.
Frequently Asked Questions (FAQ)
Have other questions? Contact us.
TICKETS
How many tickets are available to purchase?
The retreat will have no more than 46 brewing attendees total ('Companion Ticket' attendees will not be brewing). This is a hands-on experience where the attendee will be actively brewing with the best. It is not a demonstration. The full retreat goers will be brewing.
When is the last day I'm able to purchase tickets?
The last day you can purchase a ticket is when we sell out.
If I purchase a brewer ticket now, can I purchase a companion ticket for the same event later or do they both need to be purchased at the same time?
You do not need to purchase the companion ticket at the same time. Just let us know if and when you want to add your companion. We'd like to know about 30 days ahead of the event so we can make arrangements.

BREWING
Are the identified Master Brewers confirmed to participate?
Six of the Master Brewers are confirmed.
What type of beer will be brewed?
Each of the pro brewers will bring a recipe which will be announced closer to the retreat.
What type of system will we be brewing on?
We will be using the pilot system at Buoy Beer Company and a 1BBL system at Fort George.
Will retreat attendees be allowed to participate in the brewing process?
You will be allowed to participate in the brewing process and collaborate with the pro brewer.
What are we going to do with the beer we are brewing?
We expect there will be about 1.5 barrels of each of the beers by the end of the three days. When the beer is ready, we will bottle and ship about 6 bottles to each of the participants.

LODGING
What time can we arrive at Cannery Pier Hotel & Spa?
You can arrive in the morning to participate in the activities they offer; however, you may not be able to check into your room until later in the day.
How late can we stay at Cannery Pier Hotel & Spa on Wednesday?
You can stay for the day to participate in the activities they offer; however, you will need to be checked out of your room by noon if you're not staying Wednesday night.

TRANSPORTATION
May I be provided a discount if I don't use your transportation?
There will be no discount if you do not use our transportation. The transportation is included in the overall package.
FOOD & DRINK
Which meals are included?
All meals are included in the ticket price.
How much beer will be provided?
At each lunch and dinner we will provide the equivalent of at least one beer. Happy hours and receptions will offer unlimited pours.